Imagine a place where the atmosphere of hospitality mixes with the aromas of soul-warming dishes. Where perfect design and noble materials reign. Where sublime elegance corresponds with family cosiness. This is what the Italian style Halupczok is like. It is here that family ties are tightened, and the energy of "la dolce vita" comes out of every corner and penetrates into the hearts of all guests.
The Italian style is not uniform, because Italy itself is not. The modern chic of Milan, traditional Roman or Venetian forms, or the idyll of Tuscany. The Italian style, despite its variety, is so distinctive that it cannot be confused with any other. One thing is constant - there is no place for mediocrity and lack of authenticity.
Italians are famous for their love of harmony and the perfect harmony of all arrangement elements. As precursors of furniture trends, they value, above all, the craftsmanship and unconventional designs that use the latest solutions. Italian style is a combination of harmony and sensuality. Modern Italian furniture, effective lighting and functional accessories straight from Italy have delighted with their quality and unique form for years.
Italian classic kitchen Halupczok - simplicity, elegance and refinement
Italian-style kitchens are characterized by spaciousness filled with natural light, simple decorations and massive furniture. They are distinguished by cosiness worthy of a real "mamma". Classic Italian kitchens Halupczok have an unusual property - they create an amazing atmosphere. Their functionality serves not only hosts, but also guests who happily spend long hours in them. The large and massive table top often combines the stories of many generations, becoming the undisputed center of the house.
The furniture collection is a reflection of the craftsmanship and classic finesse, worthy of a real Italian hostess. Empires. In the case of the Halupczok brand, Italian classic kitchens are distinguished not only by the precision of manual work, but also by the jewelery finish. Italian interiors love rich-looking textures. Numerous millings, visible on the fronts of Imperia furniture, are extremely decorative accents that build the Italian style. Veneered fronts of wooden furniture with a preserved pattern of natural grains demonstrate the beauty of the local culture. The contents of the cabinets and shelves are delicately cut by streaks of light, penetrating through the mesh fronts, taking us with our thoughts to sunny Italy.
Classic Italian beauty is also hidden in the stylish kitchen of the line Eleganza. The fronts of this kitchen are made of elegant quartz sinter. They are complemented by a durable top made of modern laminate. The whole is complemented by transparent display cabinets that give the classic furniture an exceptionally light form. Thanks to the appropriate illumination of individual elements, the Eleganza collection creates a truly magical atmosphere.
The timeless Italian kitchens of Halupczok delight with their old-style beauty. Furniture in Italian cuisine is made with care for every, even the smallest detail. Italians traditionally store all kitchen accessories handed down for generations, and reverently expose them to their guests. They are not only attractive trinkets, but in fact everyday work tools, with the help of which the pasta dough is kneaded by hand, ravioli are formed in delightful shape, or traditional types of bread and pizza are baked.
Local specialties also stick to the so-called open plan. Elaborate decanters with olive oil, aromatic herbs or sun-ripened vegetables always find their place on kitchen countertops or display cabinets. Italian kitchens like space and shine. They are often decorated with elaborate chandeliers and fancy hanging lamps, and the walls are decorated with romantic sconces.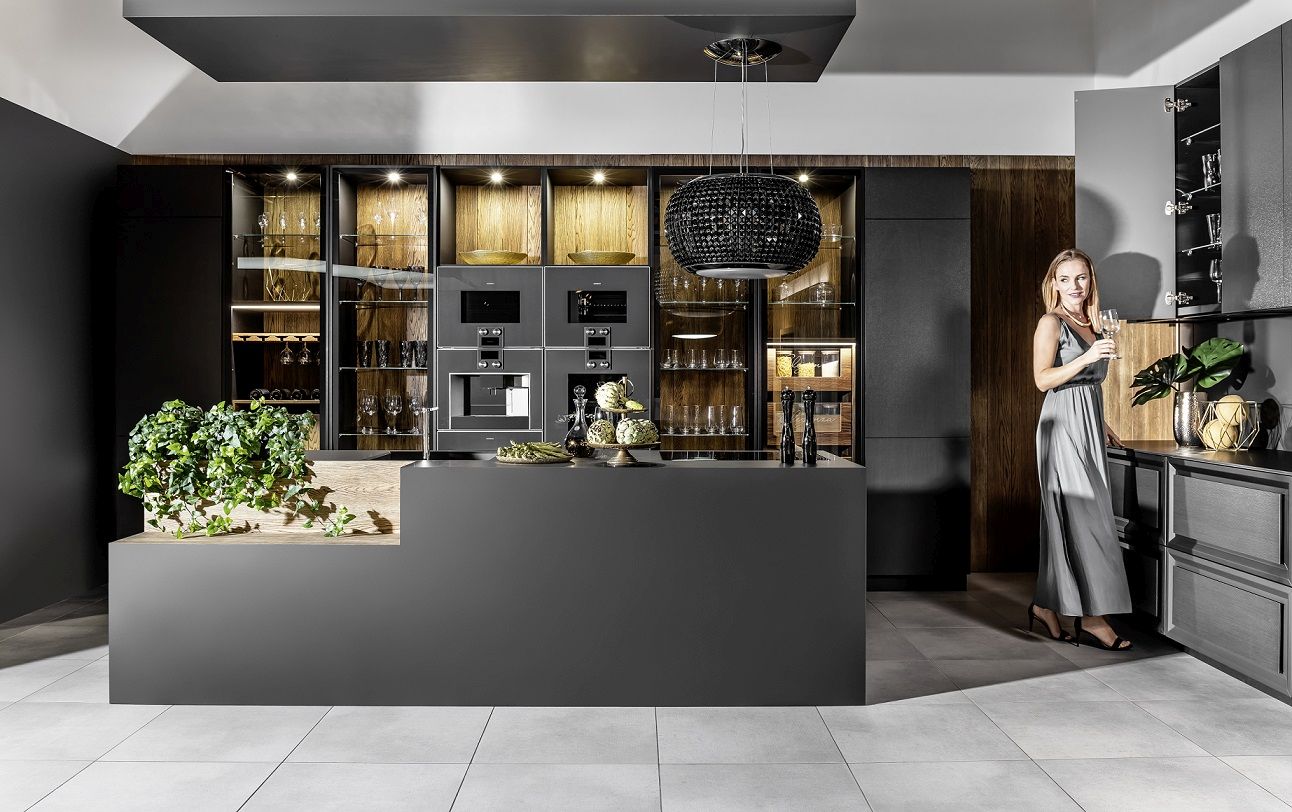 Stile alla moda, or what are the characteristics of exclusive Italian Halupczok cuisine
Italy is not only the capital of world fashion, but above all an extremely inspiring place to combine tradition and innovation. This is where the fashionable trends and routes followed by the rest of the world are born. The modern Italian kitchen is exclusive, functional and minimalist. It is defined by clear lines, geometric shapes, simple forms and subdued colors. Often the rooms decorated in the Italian style are slightly provocative. Designers of modern Italian-style kitchens are not afraid of non-obvious solutions. Just like playing with form, shape or color. That is why they boldly mix functionality with sensuality of sensations.
The modern Italian-style kitchen Halupczok exudes precision of workmanship and minimalist elegance that break the classic patterns. Natural materials such as wood, marble, granite and glass combine to create eye-catching functional works of applied art. Functional systems of shelves and drawers, intelligent storage systems for various accessories and numerous facilities make a modern Italian-style kitchen a real center of culinary command. A designer coffee machine, marble glass cores and stylish wine glasses only complete the style of modern Italian cuisine by Halupczok.
Minimalists who want to arrange an Italian-style kitchen with the use of Halupczok furniture will delight modern kitchens with a handle-free method of opening. On the other hand, people who constantly follow the spirit of fashion will like furniture with gold elements or with a perfectly smooth surface, with shimmering brown flecks.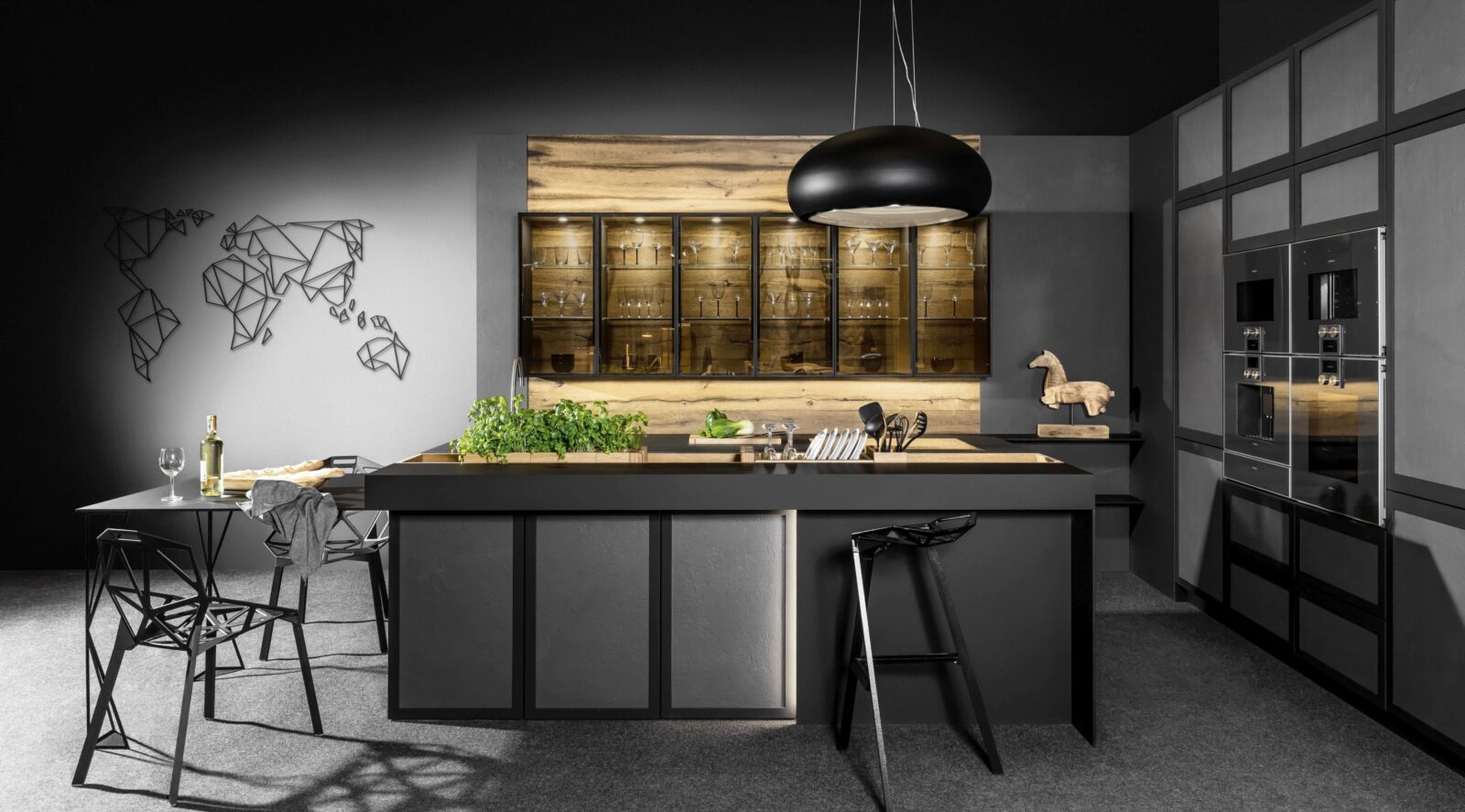 Modern collections with Italian origins
Modern kitchen with an island it fits perfectly into the Italian style. Increasingly, the island is a central and integral part of modern living spaces. The tailor-made kitchens offered by the Halupczok brand have Italian roots in their DNA. Ergonomic kitchen islands, making optimal use of every centimeter of space, allow for free use in each of the previously separated zones. Innovative solutions, such as a movable table top or a mobile bar, will certainly attract the attention of guests and effectively create a place that encourages communication between cooking and other family members.
A subtle collection that fits perfectly into the modern approach to arranging an Italian-style kitchen Grazia, representing minimal art design. Another proposal, extremely subtle in its form, is the collection Valentia. The intriguing colors of the kitchen in various shades of gray, the asymmetry of carefully selected details and the combination of various textures and materials allow you to create an extremely intriguing, modern atmosphere.
Modern Italian Halupczok kitchens are valued for their functionality and aesthetics. Everything here is designed to guarantee the best use of space. Illuminated display windows and mobile drawer systems make everything available at your fingertips. Italian custom-made kitchens, designed on an individual order, adapt not only to the style of other rooms, but above all to the specific needs of the residents. Remember that a well-designed kitchen not only makes it easier to keep order, but also makes the interior seem more spacious.
Idyllic and angelic, i.e. Italian cuisine in a rustic Tuscan style
Italian-style cuisine, referring to the charming rural interiors of Tuscany, has been gaining a faithful group of enthusiasts for years. Offering stylish Italian kitchens, Halupczok pays tribute to real craftsmanship and folk crafts. Rustic kitchens they combine idyll, carefree and elements that are a true gift of nature. Classic types of wood and the original stone bring to mind memories of holidays with grandparents or family trips to sunny lands in Italy.
Currently, rustic-style arrangements are being modernized, giving them a more modern form, tailored to the needs of a modern consumer. Often, rustic kitchen furniture is combined with designer elements, thanks to which the kitchen acquires a unique character.
Granite countertops and exquisitely finished cabinets, decorated with decorative filongs or braids, clearly distinguish the rustic Italian-style Halupczok kitchen furniture from modern glamor-style solutions. One of the collections of Halupczok kitchen furniture, referring to the characteristic features of the rustic style, is Bristol, which is a combination of functionality and decorative details. Decorative muntins, openwork cabinet fronts or deep drawers emphasize the charming nature of the collection.
Bristol is a bold compilation of advanced and modern solutions and exquisite design. It satisfies the tastes of all those for whom classic Italian cuisines are those straight from a Tuscan village. Interestingly, this delightful collection was inspired by traditional furniture straight from the Silesian cuisine and characteristic sideboards. Decorative details inspired by the architecture and design of the bygone era will charm anyone who appreciates tradition and locality and approaches the multicultural world with respect.
The rustic Italian-style kitchen is primarily a traditional, large, massive, wooden table with chairs where the whole family gathers to prepare and eat their favorite delicacies together. Surrounded by spacious shelves, exquisitely decorated wine racks and shelves for cookbooks passed down from generation to generation. The rural atmosphere is exposed through the appropriate display of clay, copper and ceramic dishes, as well as hand-painted plates hanging on the walls.
The Mediterranean style of Italian cuisine is characterized by a true blaze of colors and textures. Bright spaces filled with colorful accessories create an impression of exceptional warmth and coziness. This type of climate works especially well with lots of natural light coming in through large windows. Interestingly plastered walls decorated with original examples of local art are a perfect background for Italian furniture in a Mediterranean style. Also, open shelves and glass cabinets are mainly used here to display family souvenirs. When arranging a rustic Italian-style kitchen, remember to preserve the natural colors, referring to the sunny fields of Tuscany and green olive groves. The colors of the earth and sky are the perfect background for the highest quality Italian Halupczok furniture.
The Italian-style kitchen is a family fireplace in the center of the house
For an Italian family, the kitchen is the family room, the living room that is the heart of the home where all residents, family and friends meet. The Italian-style kitchen is not a functional auxiliary room. It is an everyday place of work and rest, and a link between generations. There is nothing more fun than having a meal together after a hard day away from home.
Italian cuisine is a favorite place for socializing. This is where the most interesting conversations take place. Family secrets and emotional memories from years ago are revealed. It is important to take into account the communicative functionality of the kitchen when designing this space. Comfortable seating, large countertops, mobile bars and easily accessible shelves for family souvenirs, thanks to them, the Italian-style kitchen takes on the right character.
Italian style kitchens Halupczok, both modern kitchens, classic and rustic, delight interior designers all over the world. Open and spacious spaces, natural materials and their intricate and functional use inspire people of all latitudes.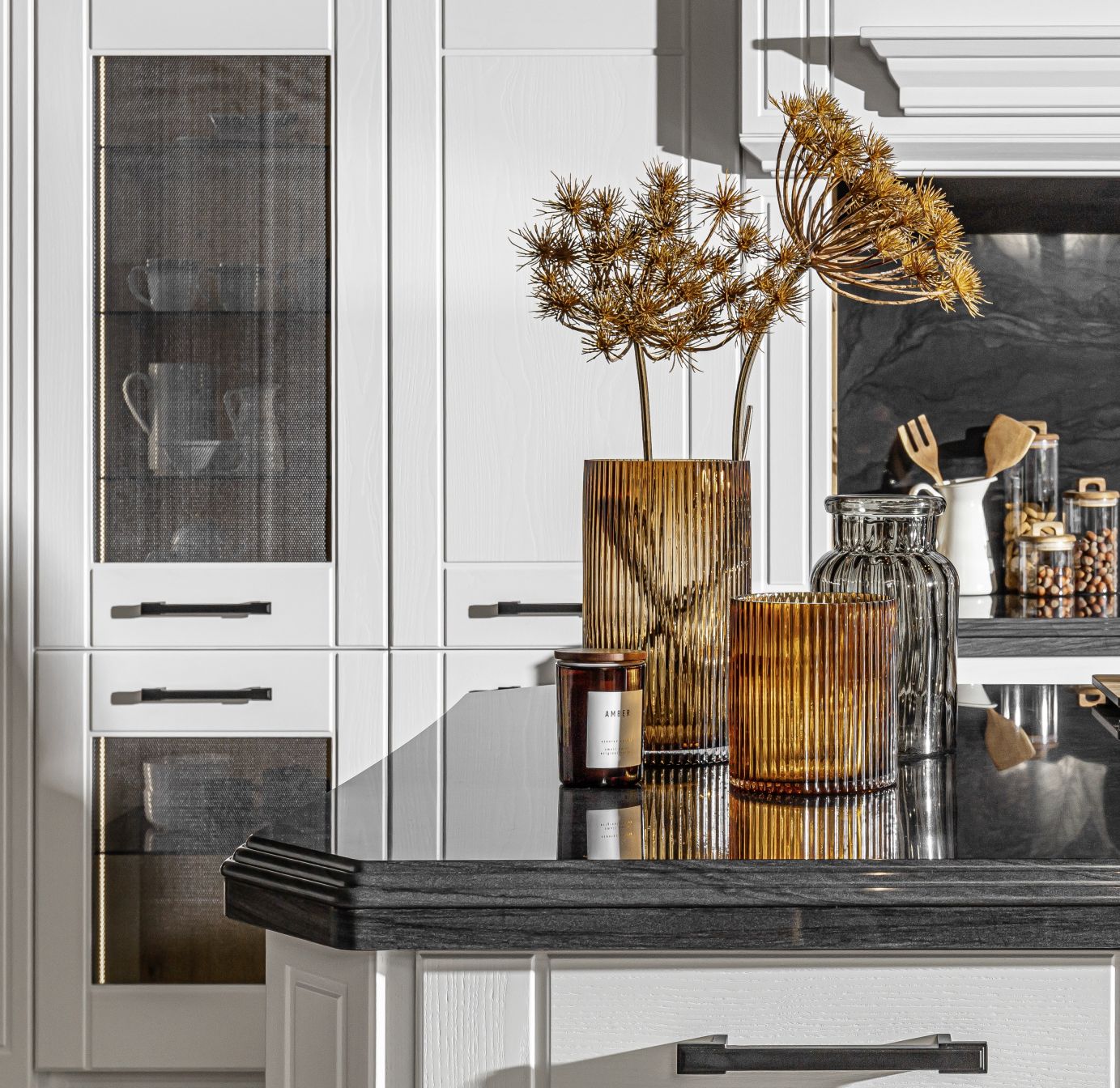 Customized kitchen = kitchen for years
Kitchen furniture to size is the perfect way to make the most of the space. Halupczok kitchens can be adjusted based on specific conditions and taking care of the needs and preferences of all household members. It allows for building up to the ceiling and functional use of any free space. Nooks, slants, unusual heights - Halupczok specialists will easily choose the right furniture to fully optimize the kitchen of any size. In addition, custom-made furniture allows you to choose any materials.
Modern Italian kitchens made to measure Halupczok are designed in accordance with the currently popular "smart home" trend, according to which all electronic solutions are to serve the household members and facilitate their functioning in the living space. Integrating all devices with the control system via a smartphone allows you to remotely, for example, prepare your favorite Italian coffee, turn on romantic music, cover the blinds or turn off the oven with an aromatic pizza at the right moment.
Halupczok Design designers are constantly observing various global trends, thus setting new trends in interior design. They offer timeless and universal solutions that guarantee that custom-made kitchen furniture will be delightful for many years.
How much does Italian cuisine cost?
The manufacturer of exclusive kitchen furniture, Halupczok, approaches the valuation of its solutions very individually. This is the result not only of the brand's philosophy, but also of the requirements of customers who appreciate the quality of workmanship and the aesthetics of the building. In their projects, they also use fittings awarded in the most prestigious competitions, which are characterized by elegance and reliability. Italian-style kitchen furniture is dedicated to people who value solid and natural materials and the amount of work put into creating original and original projects. Halupczok custom-made furniture is characterized by innovative solutions, and some of them are covered by proprietary patents. It all affects the final pricing of specific kitchen systems.
Italians focus primarily on the quality of the equipment. They appreciate not only modern and intelligent solutions that facilitate the preparation of meals, but also elements referring to family traditions. The Italian-style kitchen is a place where the passion for cooking and care for keeping the family fire warm are visible in every corner. High-quality pots and pans as well as porcelain passed down from generation to generation are an important decoration and are visible immediately after entering the kitchen. An important element is also properly selected textiles - tablecloths and napkins.
Italian cuisine is full of surprising combinations and original additions that reflect the spirit of sunny Italy. It is thanks to them that the kitchen is a favorite meeting place, where coffee tastes even better, and the time spent talking together passes extremely nice and quickly. This is where functionality and sophisticated style, inspired by local culture, meet. This is where family ties are strengthened.