Treść główna
How do we create strategies?
Market situation
Value Proposition
Communication foundations
Strategic concept
Market situation
Training for Commplace consultants - a workshop meeting at your company's headquarters or in our conference center in the Karkonosze Mountains.
Identification of stakeholder groups, customer segmentation, customer definition and key values sought by them - diagnosis of your brand. Defining assumptions for the new communication strategy.
Value Proposition
We will work, among others above:
1. The characteristics of your market
2. The main development drivers and trends
3. We will identify and describe the competition's marketing activities
4. We will analyze the market in terms of the most important problems and challenges of customers
5. We will create the most important customer groups (Ideal Customer Profile)
6. We will define the Value Proposition
7. We will analyze customer paths and behaviors on the Internet (Customer Journey)
8. We will look at the brand identity, branding elements and current communication (tools used, website, etc.).
We will prepare a comprehensive analysis and present conclusions as a starting point for further strategic work.
Communication foundations
Main task: developing the target architecture.
We will define business goals taking into account:
a. building and developing your brand image
b. we will indicate strategic goals in terms of image
Developing a communication foundation is an orderly process. A logical sequence of events displays all the important areas of brand communication.
Strategic concept
Main task: developing the necessary elements defining and positioning the brand.
Brand challenge, target groups, holistic image.
1. Brand positioning
2. Big idea
3. Strategic recommendation - brand's place on the market
4. Image of key people
5. Brand communication platform:
a. Development of the basics of brand storytelling, description of the motives, symbols and style of the brand
b. Communication tools and channels
c. Model content - ready-to-use messages (PR content, posts, etc.)
d. Schedule of communication activities
6. Personal presentation of the strategy
Did you know you lose when communication fails?
It is not enough that your brand is the subject of the purchase transaction. It is not enough to reach customers and influence their decisions.
Your company must be constantly present in the daily life of its recipients. Proof?  89 % people are no longer loyal to the brand because of poor customer service (CX). When communication fails, trust is lost.
Every interaction with the recipient is part of the process. It can decide to lose a customer. But it can also help you get it - from a good one communication strategy depends on the success of this process.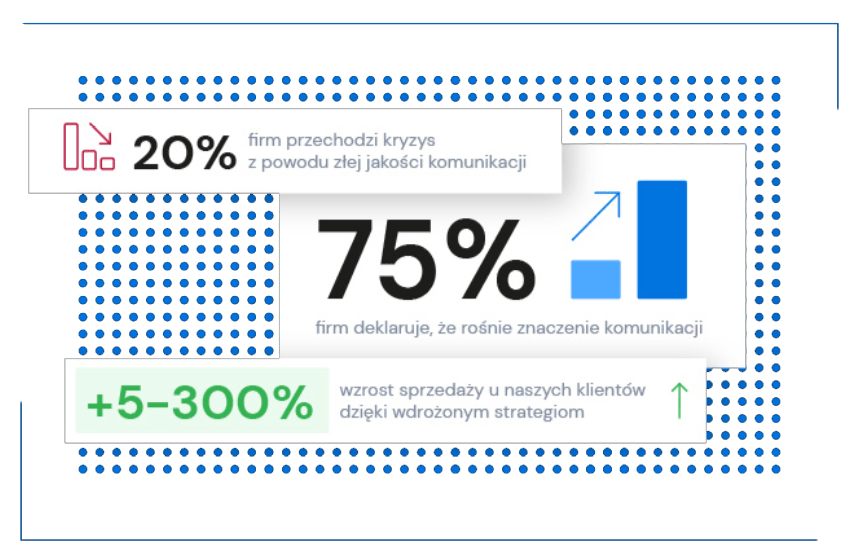 Do you care about customers?
Only 54% companies in Poland have a communication strategy. It means you're in one half or the other. The one striving for success or the one that works in the dark.
No communication strategy. Without a clear goal. Without caring for your image and customer feedback. It's true that marketing efforts cost money. Like any lucrative investment. Ask us what return you can count on?
Good brand communication always pays off. Probably the PR agency is behind the well-thought-out communication. The purpose of running a business as understood by an offensive strategy is to increase sales.
Offensive in business - as well as in sports - it's just an attack. We provide our clients with results thanks to a well-thought-out, planned and proven strategy.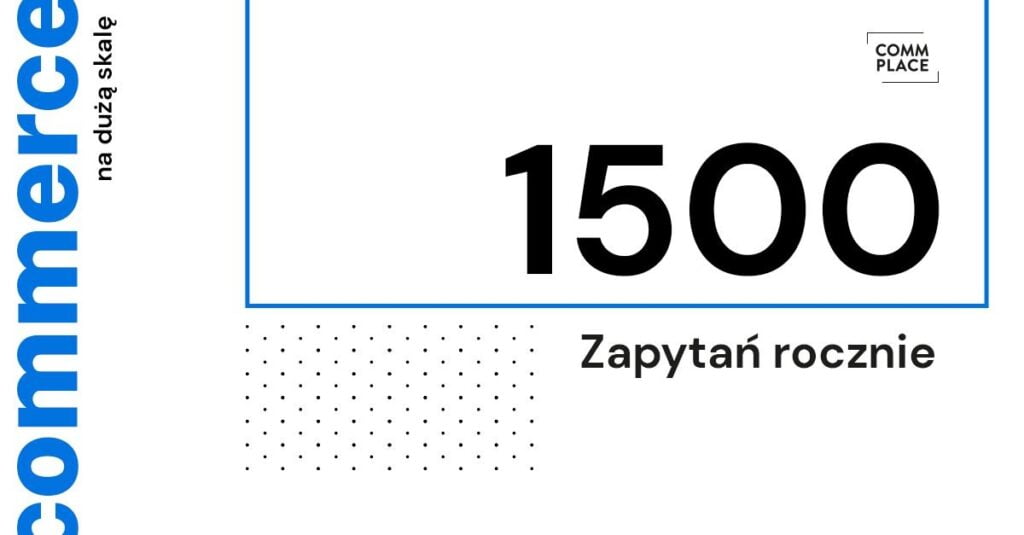 Case - effective online marketing
900%
increase in website traffic
6 months
offensive campaign

Strategy components
As part of the offensive strategy, we will take care of:
1. Permanent brand visibility
2. Creating valuable content (content and graphics)
3. Increase in valuable traffic
4. Optimization and increase in conversion rate
5. Increasing the number of leads
Results? A skillful combination of these components leads to profits.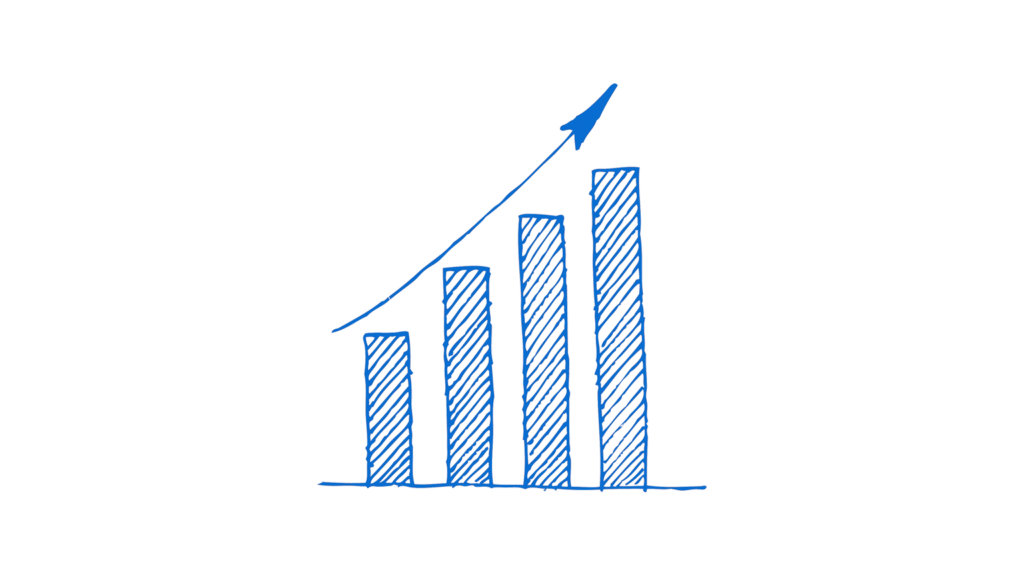 Order
free

consultation

We are waiting for your questions. You can ask us about any aspect of marketing communication.
We help companies to develop and implement effective strategies. We have developed storytelling, descriptions of motifs, symbols and communication style for companies from many industries:

- food and FMCG,
- construction and interior design,
- new technologies,
- household appliances,
- luxury goods.

Let's talk. It's for free.
PR agency advice - how to increase loyalty?
If you are not genuine, you lose the trust of your audience. If you don't make contact with them - you don't exist as a brand. Your brand must become real if it wants to turn good communication into sales success.
The 86% of consumers claims that authenticity and engagement is a key factor in their decisions about which brands they like and support.
To build customer loyalty and develop lasting relationships with investors, sponsors and the company's environment, focus on authentic communication. Don't make up any ulterior motives or intentions. Clients will quickly sense that you are communicating with them just because you have to, because everyone does. It won't work.
Positive brand communication? Its key advantage is building customer loyalty. If your customer has a positive, recurring experience with your brand, they will soon stay with you for good. It will become the spokesman for your brand. This single customer can attract other customers. Good communication will produce the most valuable, genuine contacts.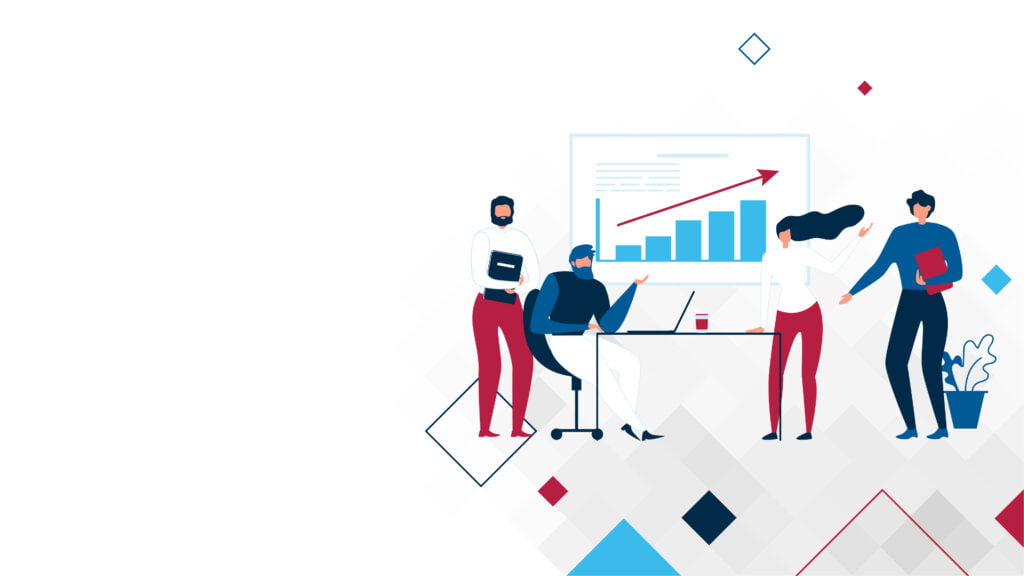 Got goals, but no communication? You will not achieve them.
The first step to achieving the sales target is the first contact of the consumer with the brand. This is when communication begins. What is the channel of this communication? The recipient came across a post on social media. He read an article on your corporate blog. Heard about the brand from friends. Saw a mention on the web. What message did he receive?
If the content of the message and its message fail at this first stage, you will lose the customer before you even start. The recipient will ask himself simple questions: Has this interaction influenced my beliefs? Has it caused a stir? Has she touched my feelings? If so, the first step in communicating your brand is success. The strategy of getting noticed is the beginning of a business opportunity. Use it wisely.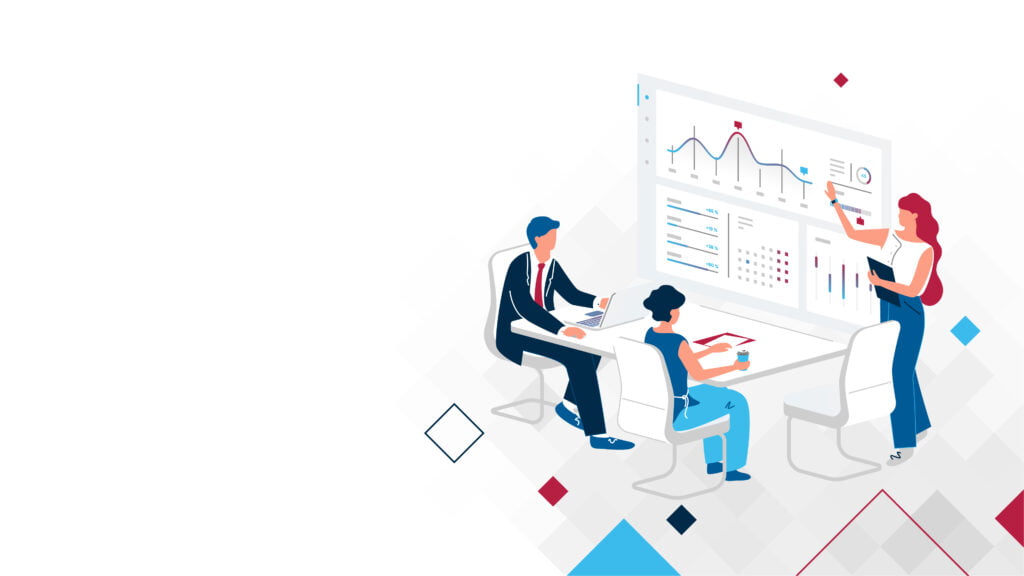 Does your brand's tone of voice sound convincing?
What tone of voice do you adopt when speaking to your audience? Can you match it to your target group and products? A brand voice tone is a mechanism that helps create a corporate personality during communication. Being fun, cool and creative are some of the options. You may be too funny or you may be too serious.
The tone of voice must match who you are and what you want to achieve. While Coca Cola has a fun and friendly voice, Apple is more sophisticated and "modern". Don't try to imitate them - find your voice. Your voice should remain the same no matter what channels you use to communicate with your customers. However, if you want to communication plan To make your brand as successful as possible, you need to make sure the tone you choose resonates with your audience. Can you judge it yourself?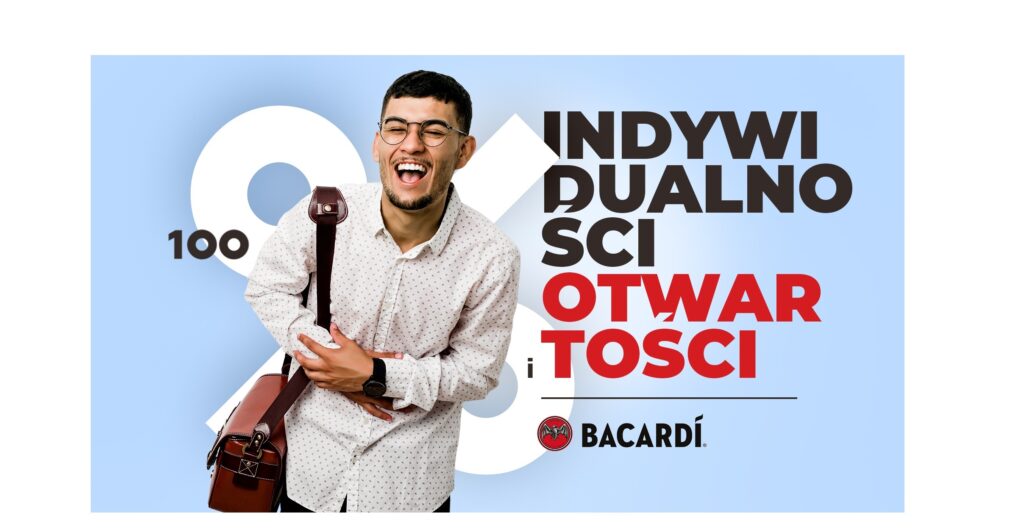 How much do you value your own content?
Content marketing still reigns supreme in the world of brand communication. It is the best tool to show yourself. However, you don't have much time to focus on your brand. Research shows that it is only about 8.25 seconds of the recipient's attention. You may not be able to cope on your own. If you want your content to grab your audience's attention, you need to make sure what you post is attractive and relevant.
Communication strategy it will give you the answer to the question of what your customers expect from your content. The more you listen to your audience, the better.
You may not know that web content is not all about social media posts, blog entries, and SEO copywriting. Your brand's online communication can contain anything that triggers a reaction from your target audience. You just need to know what reaction.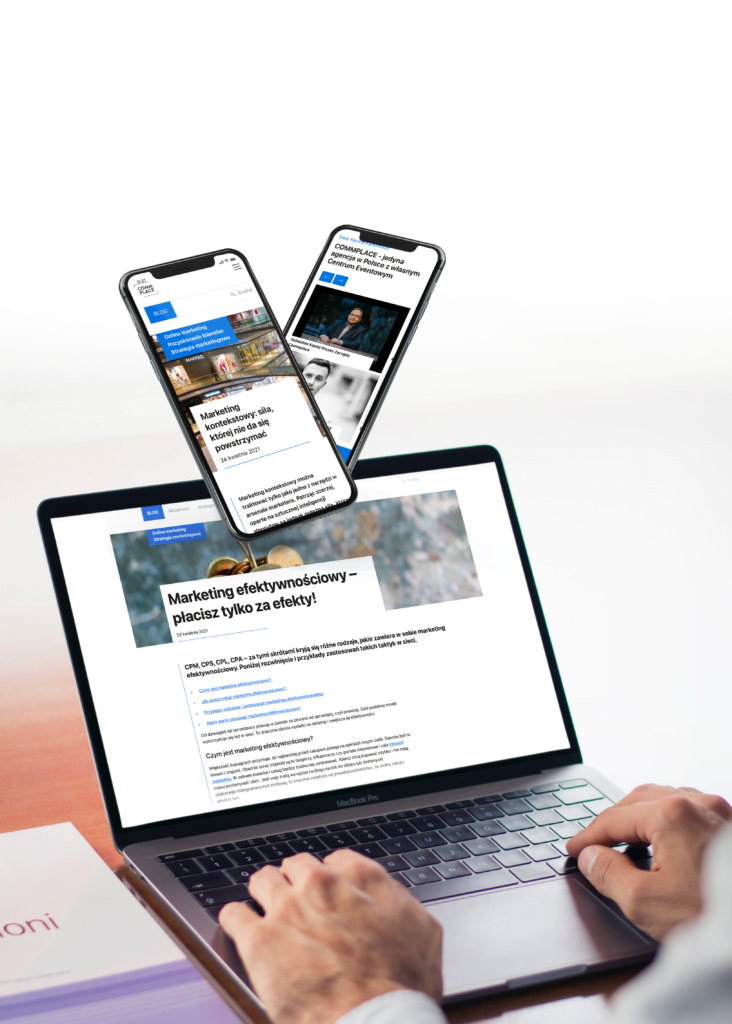 Are you making a good first impression?
You can only make the first impression once. It takes 1/10 of a second. When it comes to your brand, it's better not to take any chances. It takes about 50 milliseconds (0.05 seconds) to form an opinion about your website. How many times have you come across a website yourself and felt like it hasn't been modified since the 90s? We're guessing more than a few.
What can you do to make sure you score right away? Remember that graphics are also messages. Make sure you choose carefully colors, spacing, font, amount of text, and structure. Think about the content posted on your website. Is it optimized? Is there anything that needs improvement? Are you satisfied with the appearance or position of your logo? All these elements make up communication.
Make people who visit your website feel comfortable on it. Make it easy for them to find what you have to offer. Make the time they spend on your website pleasant. Make them want to go back there.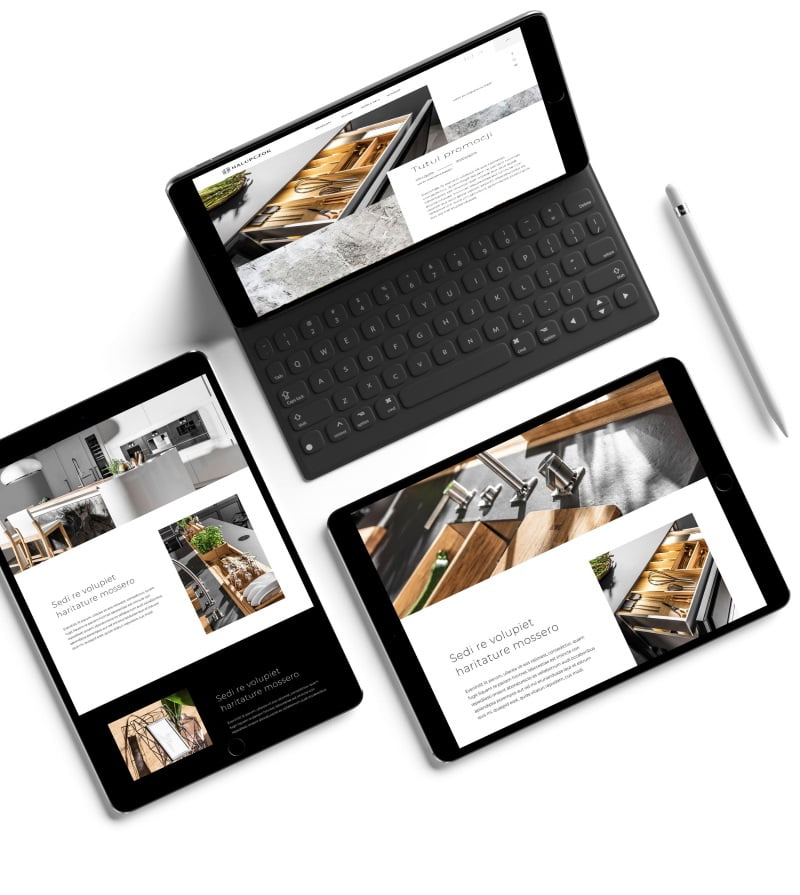 References - what our clients say about us
References - what our clients say about us
Based on our cooperation, we can recommend the Commplace agency as a professional and trustworthy partner in the area of marketing and image consulting.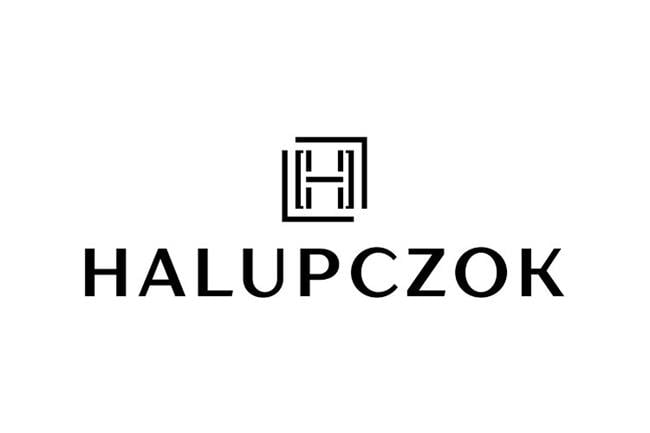 References - what our clients say about us
All Commplace employees who participated in the project showed great commitment and knowledge. They supported our brand both on the operational and strategic level, looking at our needs holistically.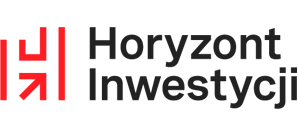 Do you need help with your business development?